YOOX: marketplace guide
About this guide
This is a ChannelEngine guide on the Milan-based marketplace YOOX. Here you can find information on how to request a YOOX account, how to configure this channel on ChannelEngine, what the specific requirements are, and more.
Table of contents
Channel-specific requirements and exceptions
Commercial information
| | |
| --- | --- |
| Founded | 2000 |
| Founder | Federico Marchetti |
| Headquarters | Milan, Italy |
| Area served (orders) | Austria, Belgium, Bulgaria, Bulgaria, Croatia, Cyprus, Czech Republic, Denmark, Estonia, Finland, France, Germany, Greece, Hungary, Ireland, Italy, Latvia, Lithuania, Luxembourg, Malta, Netherlands, Poland, Portugal, Romania, Slovakia, Slovenia, Spain, Sweden |
| Website | YOOX |
| Setup cost | none |
| Commission | around 24%, based on seller potential |
| Other costs | monthly fee of EUR 50 |
| Payment | three times a month (on the 8th,  18th, and last day of the month) |
| Product categories | fashion & accessories (a combination of out-of-season, high-end designer clothing, and in-season fashion) |
| Input language | English, French, German, Italian, Spanish, Greek |
| Input currency | EUR |
| Content creation | yes |
| Profile on ChannelEngine | YOOX |
How to request an account
To start selling on YOOX, contact your Customer Success Manager at ChannelEngine. If YOOX approves your onboarding, the process can begin.
Associated costs
Selling on YOOX comes with the following costs:
Monthly fee - YOOX provides sellers with a dedicated account manager, and charges a monthly fee once you sell your first product.
Commission - YOOX charges a commission based on the seller's potential and the categories they offer. YOOX does not charge a commission on returned items.
Channel features
| | |
| --- | --- |
| Supported | Not supported |
| Product offers | HTML support |
| Product content | Cancelations (channel) |
| Orders | External fulfillment |
| Shipments | Returns (channel) |
| EAN matching | Repricing |
| Returns (merchant) | Pick-up point delivery |
| Carrier mapping | Refurbished products |
| Cancelations (merchant)* | Automatic relationships |
* It is possible to create cancelations, but they are exported as refunds.


Settings and configuration
Setting up each channel on ChannelEngine follows the same flow, once you add the channel:
Channel-specific requirements and exceptions
YOOX is an online high-end fashion retailer and ecommerce wholesaler. With the launch of its marketplace, YOOX transitions into a hybrid operating model. YOOX uses a pure marketplace business model, which means that the seller controls price and assortment, and manages order fulfillment – as well as customer service.
Requirements to join YOOX:
Stock
Legal entity
VAT number in the EU
Technical requirements for images:
Other:
YOOX orders are paid on shipment. This means that the order status may be set to Debit in progress.
YOOX does not support merchant cancelations. Once the order is accepted, it has to be fulfilled – and once the order is exported as shipped, it can no longer be canceled.
Carrier mapping is not required on YOOX. However, you can map your carrier to a specific list of carriers maintained by YOOX. This allows for working track-and-trace links in the back-end, as well as for the buyer. If your default carrier is missing, please contact YOOX.
Currently, YOOX only supports the new products.
Setup
On ChannelEngine
YOOX is a Mirakl-based channel, so you can connect it with ChannelEngine using a Mirakl Connect SSO account. For more information on this, check out the Mirakl-based channels: SSO authorization article.
You can leave the Mirakl seller name field empty, as YOOX does not support repricing.
Invoice uploads
To configure your invoice settings, click Advanced settings. You can then click the dropdown menu Enable invoice uploading, which contains the following options:
ChannelEngine invoices - when ChannelEngine receives a shipment, it automatically generates an invoice and attaches it to the shipment.
Merchant invoices (optional) - when ChannelEngine receives a shipment, it exports it – even if there is no invoice attached to it.
Merchant invoices (required) - when ChannelEngine receives a shipment, it only exports it if an invoice is attached to it. If not, you receive a notification.
None - when ChannelEngine receives a shipment, it takes no action other than notifying you that no invoice is present.
Categorization
Categorization is mandatory if you want to create or update existing product information on YOOX. Both categorizations and mappings only result in updates if the content connection is enabled, and the relevant credentials have been entered (see the Setup section).
Mappings
Content
All products (required)
Brand - the product's brand.
Color - the product's main color.
Gender: the product's target gender. Currently, YOOX supports unisex only for some categories.
Image1 - F: packshot photo of the article.
Material composition - 1, the main material of the article.
Product title - the title of the article, must be in Italian or English. This product title is not visible on  the YOOX front-end, but the Model title is.
Seller SKU - the product's SKU. Usually this is the product's Merchant product number on ChannelEngine.
Variant group code - enables group variations of the same product. E.g.: a t-shirt with different colors and/or different sizes.
All products (optional)
Item description (country code) - this attribute becomes mandatory if you want to list the product in related markets (e.g.: DE for Germany and Austria, ES  for Spain, etc.). If the description is unavailable, map the brand accordingly – but the attribute cannot be left empty. Make sure your description does not exceed 2,000 characters. HTML is not supported.
Made in - the country in which the article was manufactured.
Material _1 % - the percentage of the main material (only the digits, without the percentage symbol).

NB:

if you use this attribute and its number is lower than 100, you must add values for the other materials – and make sure that the sum of the percentages of all the Material attributes is 100%. 

Material _2-5 % - the percentage of the additional materials in digits (without the percentage symbol).
Material composition-2-5 - the composition of the additional materials.
Model code - the manufacturer's model code.
Model color code - the manufacturer's color code.
Model title - the name of the model. This title is displayed in the YOOX front-end. The maximum number of characters allowed is 100.


NB:

the Model title must be the actual name of the model (e.g.: Nike Air Force 1). A general description, such as 'white sneakers', is not allowed. If this field is empty, YOOX displays the brand and the category (e.g.: Nike sneakers).

Size fields - in the content mapping of the specific categories, there are usually multiple optional size fields. It is mandatory to map one of the sizes available – and only one size can be mapped. E.g.:

Size - EU MAN - Footwear
Size - EU WMN - Footwear
Size - UK MAN - Footwear
Size - UK WMN - Footwear

In the example above, the men's shoes should have the field Size - EU MAN - Footwear mapped, while the women's shoes should have the field Size - EU WMN - Footwear mapped. Check out the Advanced rules. For more information on size fields, see the FAQs.

EAN - the product's European article number or GTIN.
Image1 - R, front with model photo.
Image3 - D, back with model photo.
Image4 - E, total look with model photo.
Image5 - A, detail photo.
Image6 - B, detail photo.
Offer
The only mandatory offer mapping is:
Price - you must enter the price in euros for all countries and zones. YOOX takes care of the price conversion for countries that do not use the euro, so that customers can view the price in their own currency in YOOX's front-end. The conversion is based on the rate of the Italian Central Bank and is updated once a day. Note that all payments are in euros.
The following mappings are optional:
Discount end date - the date until when the product's sale price is valid. Do not leave the Discount end date attribute unmapped. If you want to set a permanent discount, use a date in the far future instead. Otherwise, the offer is not exported, and you can see errors under the Validation and feedback tab.
Discount price - the product's sale price. If your discounted price is not lower than the base price, it is not exported.
Discount quantity threshold - the minimum quantity required for the discount rate to be available. If you do not want to set a bulk discount, leave the Discount quantity threshold attribute unmapped – otherwise the export is broken.
Discount start date - the date from when the product's sale price is valid.
Leadtime to shipment - the number of solar days before you ship the item. By default, set to 3 days.
Logistic class - the shipping classes.
Minimum quantity alert - configure this attribute so you receive a notification if the stock drops below a certain threshold.
Offer state - the condition of your item. Currently, YOOX only allows new products.
Carrier
Carrier mapping is not required on YOOX. However, you can map your carrier to a specific list of carriers maintained by YOOX. This allows for working track-and-trace links in the back-end, as well as for the buyer. If your default carrier is missing, please contact YOOX.


Listed products
If you have problems with products not appearing on YOOX (especially if you are trying to create products that do not exist yet), check the Listed products section for more information.
You can either filter on Channel status (Invalid for all products that ChannelEngine has not exported, such as products with an empty EAN or products that currently do not exist on YOOX or use the Validation and feedback tab to see all known validation/feedback errors for specific products. Also, as YOOX uses the Mirakl marketplace framework, you can see detailed status reports in their back-end. These reports contain specific errors if a product or product offer cannot be created.
The reports can be found under My inventory, Import from file, Track offer imports/Track product imports. By hovering over the 'i' under the Status section, you can see how many products in the file were processed correctly and how many had errors, etc.
If there are errors, the last column shows a downloadable file in which they are listed. The same goes for the product file import, but this can contain multiple files because processing goes through several systems. There is also a manual check of your submitted content, which, once approved, goes to staging as well. Note that you need to map as much as possible to prevent products from not being created.
FAQs
What should I do if I have sizes in different formats, such as in EU and US sizes?
You can map one of the size classes, YOOX makes the conversion to other formats.
Which size attribute should I use?
In some categories there are several different size attributes available:
Brand - if you are a brand and you list your products on YOOX for the first time, you can choose to map whichever size class you want. YOOX recommends that you stick to the size information in your labels.
Retailer - if you are a retailer and sell a brand that already exists on YOOX, you must use the size class that has already been associated with that brand. E.g.: women's jeans by Levi's have the size based on the waist size. In this case, you map Size - JEANS WMN - waist, other options are not possible.
NB:
YOOX does not provide any feedback to indicate that the used size class is wrong, nor suggest the correct one to use. Their content team might flag the error to you directly.
How can I map unisex products? 
YOOX supports the gender unisex for the following categories:
belts
swimwear
underwear and sleepwear
accessories and small leather goods
For all other categories, the Gender attribute should be mapped to Man or Woman.
If you map an article from another category with unisex, YOOX still accepts it and makes it visible for both genders in the front-end. However, you are not be able to map any unisex size attribute, with the consequence that the sizes might not be converted properly and might result misleading for the end customer. For this reason, YOOX discourages from mapping an article as unisex – if there are no unisex size classes available.
YOOX offers the following solution specifically for shoes:
map the smallest sizes for women (from size 34 to 41)
map the largest for men (from size 41.5 to 46)
Keep in mind that this solution makes sizes visible only for men or for women, depending on your mapping. Also, if you adopt this solution, make sure that the Variant group code is different between the Female size and the Male size articles. Products grouped under the same Variant group code must have the same Size class.
How do I create variations on YOOX?
To create variations on YOOX, the content attribute Variant group code must contain the same value for all the articles you want to group together. That can be done by mapping the attribute Parent SKU (or any other relevant attribute) to the Variant group code attribute, as long as Parent SKU's value is the same among all the variations of the product. E.g.: if you are selling a t-shirt in three colors, with five sizes each, all fifteen products must contain the same value in the attribute Variant group code.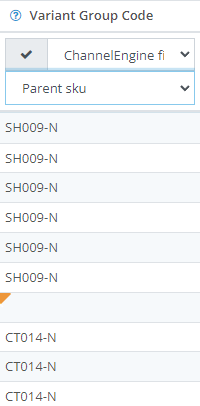 Keep in mind the following when creating variations:
There are only two kinds of variation on YOOX: color and size.
All products that belong to the same variation group (and thus share the same value for Variant group code) must have a unique color/size combination. E.g.: if you are creating a variation for a model of shoes which has variants with similar colors, make sure to map different values in the Color attribute, such as 'blue' and 'dark blue'.